Thursday night 

The 10-10 rule. 

 I need to write about this tomorrow. 

Friday Night

So, last night I wrote that note about the 10-10 rule, and now its literally 24 hours later. It has been a busy day, so let's catch you up, and if I have time, we will discuss the 10-10 rule.

I hope you enjoy the antici-

…
……
………
…………
………
……
…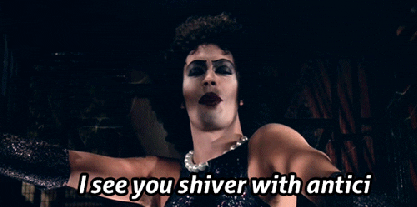 (Just say it already!)
…
……
………
………….
………
……
…
Pation.

(Sorry, I have to have fun sometimes. Also I plan to post this on a Sunday and everyone needs some Rocky Horror Picture show on a Sunday)
So this morning I woke up, before 7, exhausted, because Chance was at the door whining all night, totally miserable, the poor guy was hating life. So, I made tea, had breakfast, got ready, but then spent much of the morning catering to a sick dog who puked all over the floor. Poor dude.

So I go into work to do a couple of things and send out invoices.

And work was insane, and the few things turned into several more things, and then a coworker decided to go out for a long lunch so I had to cover in the store, and then I finally got to send invoices, just to have a million things go wrong….To finally have me leave right before 5:00 PM. Damn near a full day of work. Oh, not to mention a SUPER rude person who really pissed me off.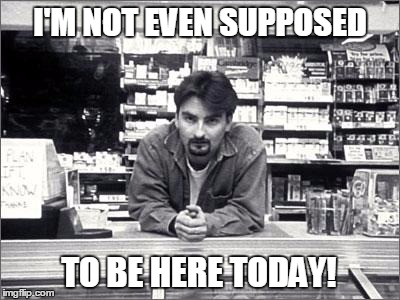 So much for the day off, or even short day. Or even a pleasant day.

Anyways, Bret came home, a day early, which is awesome, because we were able to go to half price books and get some awesome books and DVDs. We also tried a new Chinese food place and both really enjoyed that.

When we got back home it was after ten, we smoked, and bathed chance, talked for a second, and now it is nearly one in the morning and I still have tons of writing I want to get done before bed. Sure, in theory, It will be there tomorrow, and yes, I have written 3,000 words already today, but I want to also squeeze in some more writing so I am going to probably stop blogging here to squeeze in just a little more writing before bed.
Tomorrow's blog is a skin care blog, I am reviewing a Hemp Stem Cell mask that was fucking awesome. This blog will come out after it, so I can say, I loved that mask.
Anyways, this blog will hopefully go up on Sunday, so I will update tomorrow.

Saturday Night

Time for some movies and writing!

I am making some popcorn on the stove top, and we just put on Zombieland.

Sadly, the theaters nearest us have already stopped showing Zombieland two, so despite wanting to see it quite badly, I haven't, yet.

I am sure that it will be available for streaming soon, however, so that will be nice.
Anyways, we had our popcorn and now I am settling into some writing. My plan is to dive into the story with Kaya and M.E.T.A radio.

I also want tor read a couple chapters before bed. My friend in Canada, Samantha, (@Whaleysweetscents on Instagram) mentioned that she never saw books, and that I didn't talk about them, and I was mortified to realize she was right. For a long time, I never talked about books because my friend's didn't really like reading, but now I don't really have too many friend's that aren't online, aside from my few, who know I am an avid reader and have seen my book collection.

So, most of our books are backed up because we haven't found a good storage and display option for the books yet, that works with the more difficult aspects of our apartment, but we are working on it. Currently, the bulk of our book collections are stored in a plastic rubber maid container with cedar blocks. But I am also always rotating through some books. I keep a small stack next to my desk in a rolling card that has become over grown with all sorts of stuff, as has my desk, which has to double as my vanity.

The lack of space in our apartment is a problem, but I am working on it, as you know from past blogs.

But, all this to say, I do in fact read, and I am hoping to squeeze in some writing, but also some reading. As you all know, I am in need of getting back in the routine of getting up early, and also of working out, and I think I will instead of blogging while I work out, as I sometimes do, I will instead read, to make better use of my time, and ensure I am able to read, however, because the increased writing has taken it's toll on my reading time as well.

So, if I carve out time for one important thing, say working out, and I multi task with another neglected important thing, like reading, I can still have tons of time for writing, but I can also make great use of the time I take away from writing.

Life is a balance, and when you are a working writer, one on their way to their successful life they have always wanted, you have to make great use of your time. I know many of you are on similar paths, trying to make sure the life you are leading is the best one possible, the one you have always wished for yourself, and if you recall from a past blog, I believe in acting like you are always on your rise to success, because you are.

I am doing this blog, and ultimately, my vlog, to help other writers out there, writers who are balancing a million and one things while still growing and creating their universe.
Creatives who are working to pay the bills, but spending all their time outside of work building a life in which they don't have to work at a job they hate. I hope to help others, so, I figured I would share my most recent idea for getting more time out of my day.
Now, it is late, but I am going to work on the Kaya story with M.E.T.A. Radio. 

Later
I am still writing on Kaya, but before I get to much more lost I wanted to finish up this short little blog. I don't know if I will post much more today, so this is a short little blog, but I also know that there are many fantastic writers who drop big meaty articles on Sunday, so really, I am saving you for them, because I know there are some great writers out there who would love you to read their stuff, so please, if you wish to read more, which I bet you do if you are reading my blog, please, go and check out one of the many great writers! I post this blog to abbigrasso.com but that is hosted by WordPress.com. Plenty of great writers write on WordPress. I also import these blogs to Medium, and there are just as many amazing writers on Medium, so, please, go to the home page of whichever you use, WordPress or Medium, and read the words of another writer, let them feel validated. Like their post, hell, comment on it, let them know you loved their words.
If you don't wan to read anymore, okay, cool, but, maybe, just maybe, instead, consider reading something. It doesn't have to be online. Go read a book.
Hope you are having a wonderful day, and have an even better week.
❤
Abbi