Greetings and salutations, dearest Blogmas and Daily Blog readers!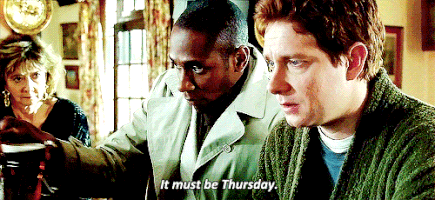 Today is Thursday, and I am determined to have a fucking fantastic day, despite my usual "Thursday Curse" that I share with Arthur Dent (and I assume Douglas Adams. We have similar random tangent writing styles so it's not huge leap to think we are similar in that regards to Thursday)
I want to have a good day to lead myself into a top notch Friday and a great weekend. I want to spend the weekend getting sorted for next week, and also for the holidays, maybe get some more decorating done, definitely some more pictures taken for future Blogmas posts.
Our plan was to do more DIY and small space style decorating, that also honors other cultures and holidays, for our more inclusive holiday celebrations. As I have mentioned, I am hoping to have our friends over for some nice food, maybe some small presents (I have been thinking of making everyone sweets or something knitted so it's affordable, but also with lots of thought and care).
I definitely want to have a nice cozy evening, feeding my friends, smoking, talking, and just enjoying the company of my wonderful friends.
And if Bret and Amanda win, and we end up going out of town, I plan on inviting whatever internet friends I have in the area we go to over for a dinner I will cook in an AirBnB kitchen.
Because I will make a holiday meal. I have no idea what it is going to be yet, or even where, but I am working on all of it.
Anyways, today is crazy busy because we have some people out of the office, so Bret and I need to help out in the store, and I have my own pile of mess to deal with, so, I am going to work on that, and I will update later when I am able.
Assuming I am able to, and today doesn't get too Thursday-ish. Admittedly, the store being short staffed and me having to help out, leads to a rougher day, but, mind over matter.
So, I am going to keep a positive mindset despite all the gross ass congestion, and I will work hard to have a great Thursday.
I am waiting for a phone call at my desk, but I can't really dig into any of my projects, just basic things I can tackle and get done. So, I figured I would quickly try and update this. In between customers, I spent some time dicking around on WordPress, and reading some awesome Blogmas posts, which also gave me some great ideas, for my upcoming Blog posts. I don't want to bog this blog down with too many holiday blogs, more so if there is not variety, so I want to keep my holiday topics diverse. I saw some people who did holiday movie and book reviews, which keeps the content diverse, and also thematically in the holiday spirit.
Mind you, many holiday movies are christian based, and even the ones Hallmark has come out with this year to be "inclusive" to Jews….Have been poorly done at best.
Several included Jewish characters having to hide their Jewish-ness, who are being pushed into traditional Christmas celebrations instead of their own cultural ones.
Not exactly great movies for Jews. But, many holiday classic movies are available to watch on streaming sites, and, because of my life long dislike of the holiday season, I haven't seen many of them. So this year, in my attempts to be more holiday minded, I could watch some of these holiday films, and maybe even pick up a few books on the holiday season, at my favorite book shop, Half Price Books. I could always reread Christmas Carol, before we got to see it live, at The Alley Theatre, next weekend.
Lenyn, a dear friend, is working that show, and was kind enough to set aside comps for us. This date is an auspicious one, being a Friday the 13th, also a full moon, ALSO Amber's birthday, AND it is the day/moon she was born under, SO OBVIOUSLY we will be going out that day anyways- And first we will get to have some fun at the theatre, watching a holiday show…
So the blog the next day will be loaded with fun stuff and fun pictures, I hope.
I could also review the play's production, for a Blogmas entry, which would be fun, as I do love a good play, and this show is well known for being fantastic.
I have also thought about being some DIY stuff, like how I DIY wrapping paper, or maybe a DIY ornament. I may also post some how-to's for presents or cooking, to really diversity the Blogmas content.
You may recall that I posted a very basic recipe for a turkey broth, using Thanksgiving leftovers. I liked that, so tonight and tomorrow I want to read or watch some Holiday content stuff, for some diverse Blogmas content…
I mean, come on, who doesn't want to know what someone in their thirties thinks of holiday classic movies, having never seen them as a child (which obviously means biased eyes).
Yeah, may be fun to read what I think of holiday classics I have never seen before, because frequently, we get biased thoughts based on childhood expectations, whereas I will just be watching them for the first time.
Exciting? If you think so, damn, you should follow this blog and keep checking back.
—
Thursday Evening
Well, we just finished dinner, and Bret is running to the smoke shop to buy more hemp blunts, because our throats have been hurting really bad and those are the only things we can both agree on smoking now.
Hopefully this weekend I can get back to my bong, because boy I do miss it a ton.
I also have some cleaning I really need to get to this weekend, I will likely spend an hour or so tomorrow night getting the apartment back in shape from a week of being sick. Surprisingly, it isn't as bad as you would think, I have been keeping up with the dishes and such, but I do need to do the litter box, sweep, and wet swiffer. Some mild dusting wouldn't go amiss, but, likely I will focus my attention on the fridge.
I did get all our dishes done, the same day of the big Thanksgiving dinner, but, we still have all the stuff in the fridge, including Tupperware and the roasting pan. This weekend I will need to toss out anything that has gone bad and of course, wash all those dishes, and that project will likely leave me not caring too much about cleaning, but, I do plan on putting aside an hour tomorrow evening, to do some cleaning, and if the other stuff doesn't take up that hour, I will add in some mild dusting, just really get this place tidy again, so I can enjoy the weekend, I hope, in good health.
I want to do a bunch of writing this weekend, and I know Bret does too so we are planning a super fun weekend of just writing. I have plenty of Flake City stuff to do, and of course, my sweet, sweet, blog. I want to do a couple of Blogmas type blogs, and I also have like, five different skin mask reviews, all of which in different stages of completion.
So, a big weekend of productive writing, Blogmas, Flake City, face mask reviews, and Bret probably has another album to make, because he is a brilliant composer.
Bret's merchandise samples came in, some of it, his long sleeve, short sleeve, and canvas, and they all look great.
Mine, I hope, come in at some point tomorrow, because we only ordered ours a couple of hours apart from each other.
His shirts and canvas look amazing, so I am hopeful for my stuff. I have two shirts, a tank top, a sticker, and a coffee mug coming, and he has a hoodie and sticker coming. We tried to get everything either of us had lined up for this merchandise run, and we will buy more samples with our next bit of disposable income. It is likely buying samples and gear needed for our art, to really help launch us into the new year, will be our main gifts to each other for the winter holidays, other than some nice gifts that are useful, like new pajamas or some books.
I have a few new things I want to add to this holiday seasons celebrations, for example, several cultures and countries will exchange nice pjs and books, on Christmas Eve. I also want to actually do stockings this year, but I don't know what I want to put in them, other than some candy and maybe fruit we both like. Maybe some small trinket useful things, like for me, paracord survival bracelets or those little mini survival kits (I'm weird, I know) or maybe mini's of my favorite skin care products, or little weed products…iuno, just cute little stuff. For Bret, I want to find a cute small clock to sneak into his stocking, and some little mystery figurines- he has a few kinds he likes. I have a few cute ideas for him as well, but I am trying to flesh out exactly what I want to get him for the holiday gifts proper.
I am hoping to not only pick up some of his merchandise samples for him, as a practical gift, but also a new keyboard, and several notebooks of staff music pages. Plus a few books, obviously, as we are both big book lovers. Other than that, I am still brainstorming a few things for Bret, and I am also brainstorming some ideas for my friends.
I have been working on little scrubbiest and mask removers, hand knitted, based on a design my grandma developed for washcloth scrubbies for dishes.
My grandma used to make these washcloth type knitted bits that she called scrubbies, to make use of the extra bits of yarn left over after her various knitting projects for all of us. I have been trying to perfect these for facial care, to hopefully reduce the amount of cotton rounds I use, and also to provide a cuter option than washcloths for removing face masks and such too.
If you have read any of my mask reviews, you know I normally wash my masks off with a washcloth, to save from splashing water everywhere, and to actually get it off…those clay and mud masks can really be a bitch to wash off so, using something to wash them off helps.
I actually knitted a model for the size I want to make en masse, and I am thinking of knitting a fuck ton of those up for various friends who love skin care, and pairing that with like, maybe some face masks to go with them, and something baked or made, like cookies or fudge. Maybe edibles, for my friends who indulge. This way, everyone gets something useful to reuse, with the face scrubby, they get something to pamper themselves with a bit around the holidays, with the mask, and they get something delicious, with the baked goods, ideally that gets them high, for an extra holiday bonus.
Ironically, all of my friends are pretty big into skin care, at least in a passing way, so making those scrubbies actually kind works for everyone.
Specs is next to Half Price, so I can easily stop by next door and grab a few small bottles of liquor too, because is it even the holidays without little tiny bottles of liquor to add to gift bags for your friends?
Exactly.
So, that, I think, covers it for some of my Blogmas plans, while also blogging my plans for this weekend, and of course, my holiday plans.
Now, it is getting late, we really should head to bed soonish, after some skin care and chill time, and of course, editing and formatting the blog, editing a cover picture for this blog tomorrow, and of course, any other pictures I decide to grab for this blog, although I don't think I took many to any today, so that may get tricky.
Anyways, I need to wrap this up so I can take some night time medicine and get a good nights sleep and maybe not sleep in so late tomorrow…because I have been sleeping until like, 8:30 or later all week, and I tend to aim to be at work between 9:00-9:30 AM. Also the cannabis episode of The Office just came on and Bret insists it's hilarious so I am going to watch this before coming back to this.
Later
Well, we watched a bit of "The Office" and now it is much later so I need to wind down.
I am on the mend, and I am hoping to feel great tomorrow, but I have also taken night time medicine to feel better tomorrow…so typing this is getting harder and I need to end it so! I hope you all have a wonderful Friday, and I will see you tomorrow for the next day of Blogmas.
❤
Abbi