Greetings and Salutations, my awesome and wonderful blog readers!
It has been requested many times, for me to discuss my usual daily skin care routine, on the blog, and today is the day for that to begin.
I will say on the onset that I don't know if this will be one blog or two. One would cover both, two would break down the day and night routines.
Also because it has been brought to my attention that some people think they can circumvent basic hygiene with their face.
I am here to help you correct these mistakes, but, unlike other beauty bloggers who may advise routines, I will be suggesting things in a neutral way, keeping brands out of it, and instead focusing on the "what" it is that I do, not the "what brand" I use to do it. ( I will link some products on Amazon, only to be helpful, and if you use these links, at no cost to you, and I get a kick back from it.) Considering I am in the process of turning to all vegan and cruelty free products, what I am using doesn't matter, as half of it isn't staying forever.
Skin care can be affordable, and you only get one skin, so you really should take some care of it.
So, without further ado, here is my skin care routine. We shall start with the morning stuff!
I will be focusing on the stuff I do every day or nearly every day, but I will be glossing over much to all of the makeup part of this conversation, focusing instead on the skin CARE part of the routine.
First things first: Wash your damn face.
Now, I will say this IS more important in the evening, and if you have VERY VERY VERY VERY dry skin like mine, you MAY want to skip using a harsh cleanser, some mornings.
But you will still remove stuff from your face.
Overnight, you didn't "dirty" your skin up too much, but you did get some stuff in there. While you may not need to clean your face with a harsh cleanser and water, you really should at very least use a mild micellar water to remove anything not good for your skin. Micellar water works great for dry skin in the morning, because it removes any foreign materials, any left over face product, any sweat, whatever got on your skin overnight, but leaves your natural oils, so it doesn't strip your sensitive or dry skin.
This is clutch for me, as I have crazy dry skin, but I also can't stand when I hear people claim "I can't wash my face it's too dry" because literally no one has skin so dry it shouldn't be washed of outside pollutants.
I will, some days, instead cleanse my skin with a very mild foaming cleanser, if my skin is in anyway tolerant of this. Sadly, my skin flakes and dries out, and the micellar water solution allows me to clean my skin and still apply toner and moisturizer, to a cleansed face, without tons of dry skin flaking off everywhere.
I get to wash my face in the morning in the summer, sometimes, or when I have used a really heavy, very oily, night time product, and sometimes, around my period, when my skin is producing excess oil, but this happens fairly rarely.
After the micellar water, it's time to tone. (Although I do generally pause, brush teeth, splash cold water on my face.) I have a ton of toners I use, and I use each of them differently, but the gist is as follows.
I either put some on a cotton round and rub it on my face, same as with the micellar water. ( And yes, keep reading, I am working on making environmental alternatives to the cotton rounds)
Or I spray it, if it is a sprayed toner, and will either pat it into my skin or let it air dry.
The final way is by splashing some onto my hands and patting it into my skin, directly.
Which method I use depends on which toner I am using, and what time of day it is. I also tend to be a multi-toner kind of gal, more so since many people consider facial mists to be toner.
In the morning, I will use a cotton round , after the miccellar water, and then sometimes spritz some on after.
I love toner, and toner can really up your whole routine.
Toner helps your skin, gives it a bunch of good stuff, and also helps the moisturizer cling to your skin and absorb better, so please, use the toner.
If you are worried about cost, the Mario Badescu is fairly priced, the large bottle is 12 bucks and the smaller one is like seven, and the lavender scented spray is everything. This is my preferred facial mist for scent, skin benefits, price, and application. I have used this mist in place of a toner, not just as a refreshing mist, and have always been very pleased with the results. (I doubt this needs to be said, but I will say it here: While I do like and stand by the products I am talking about, I am NOT sponsored.)
If you want something more expensive, trust me, tons of companies out there can oblige you. I have been also using the Andalou Hemp Cell toner and that is honestly one of the best toners I have ever had, and I love it. I reviewed it and the entire hemp stem cell line.
After I have finished toning, I use a day cream. I used to use just a day cream with SPF but I find using two separate lotions, while being more items to buy, yields a better result for my skin. The day cream I have been using is the Andalou Hemp Cell day cream– Love it, and it's affordable. That entire line is 99% plant based, while also being vegan and cruelty free.
So, after the day cream, I add on my SPF cream. Minimum 15, but I prefer a good 30. 30 gives me good coverage with out it being so thick that it pills and flakes off, or ruins any makeup application I may attempt.
I like to wait a moment between each of these steps, but if I am doing makeup, I will go ahead and add primer after just a minute after putting the SPF on. Then I will put on any primer I am using. I used to use primers pretty religiously, but I haven't been wearing makeup as much and the primer I like best is so damn spendy.
After the primer, I sit and wait for legit five minutes or so, to really be sure everything is dried and set.
Eyeliner, if I haven't already put it on and sometimes to often times I already have, and then mascara. I use a Q-tip with one swap wet, to tidy up the mascara that I may have gotten on the skin above or below my eye.
After mascara, if I do anything else, here is where I do it, but often times I am good with just eyeliner and mascara, sometimes a banana powder to set the look.
I then mist my face with face mist to refresh myself and wake itself up. I use either the Mario Badescu or Pixi Vitamin Wakeup Mist (The later one being pretty damn spendy so it isn't the staple the former is.)
When I get home, my evening routine will generally begin sometime before I do my workout, assuming I am doing on that day, or, it begins around dusk. Or if I have been out doing things late in the night, it starts when I get home.
I use good ole micellar water once again, because everyone knows it as a makeup remover for a reason- this shit is AMAZING for removing make up and better yet, it doesn't leave skin horribly dry. I have other makeup removers too, like the Farmacy makeup melting balm, but the micellar water generally is used too, depending on how much makeup I wore that day.
When I need to use a face wipe, because I am on the go or whatever, I have a generic kind from Walmart that I love, because they have a wonderful calming lavender scent, but sadly, the environmental impact is insane. I have since found biodegradable wipes, so if I MUST use a wipe, it's that kind. I am working this year on actually developing my own hand made wipes and cotton rounds, and I will likely give them to people for holiday and birthday presents, once I do master it.
So, makeup gets removed, and if I work out, I work out. Generally, I remove makeup, work out, and wash my face properly with a nice good, deep cleanser. I have been obsessed with Glam-Glow as a cleanser for a long while now, and the tropical exfoliant I found is no exception, so, I have been using that.
There are plenty of cheaper cleansers out there. I like this one because it smells awesome and leaves my skin feeling super deep cleaned while still hydrated, which is hard as fuck for dry skin like mine.
After I have washed my skin, I toss one of my toners on, using one of the spray-able ones- depending on mood as to which one, since I have three scents from Mario Badescu, and then like three other spray toners/mists (yes, as mentioned, I really like toners and face mists). Once I do that toning, I reach for a skin mask.
What kind of mask depends on the day and my skins needs, but it can be anything from one of my favorite masks, or an affordable solution, or a clay mask, or even something else fun and awesome. If I am somehow without a mask, I head to my kitchen and make any of the masks I can make from the stuff in my kitchen.
If you need help with skin care ideas, more so ones for DIY skin care, check out my blog post where I talk about it at length.
While I mask, I tend to be editing the blog, writing creatively, or posting to social media…and sometimes I do all of the above.
However I spend the time, when I finish with the mask, I remove it. I peel off the sheet masks and rub in any remaining solution, and for painted on masks, I use a washcloth to remove the product, as it provides a cleaner rinse off and in my opinion, better results.
Once the mask, sheet or otherwise, is fully removed, I tend to do another toner, either the hemp or the lavender, and then I put on whatever I am using for evening skin care.
Lately I have been leaning HEAVILY into night time masks, to the point of even reviewing and suggesting a few that I have fallen in love with. In those reviews, I mention that you use sleeping masks instead if the nighttime formula moisturizer. Some people may use both but that seems silly to me, and like you are wasting whichever one goes on second, as both are meant to finish off the routine.
I have been using the night time masks because frankly it is more affordable than night time creams and it is often the same ingredients, sometimes stronger concentrations, for those sleeping masks, and the results have been fantastic, so…Take that as you will.
A note about night cream, I have one cream I have been using that works for day and night use, and is available for a nice, fair, price at Ulta, and that is the Belif, which works for both and works well. I mention this because I rarely find creams that work for night and day use, and this one has been pretty nice. I don't often use it, however, as I have been rocking the sleeping mask I found. This isn't vegan or cruelty free, so it likely won't be used again after this container is empty, but it is good, if you don't want cruelty free.
After I put on whatever I will be wearing to bed on my face, I carry on my night, and I make sure to put my hair up and moisturize not only my neck, but the back of my neck, my hands, the BACKS of my hands, and my arms. I use lotion right before bed, lavender scented, and some lavender oil at my temples and behind my ears and neck, for aromatherapy, a lip balm on my lips for hydration, and I spritz the lavender mist whenever I feel the need, and before bed for hydration sake…because I am always so dry.
I know some people say not to go to bed with chap-stick or lip-balm, but I really do need the moisture. I can't express how dry I get, and I sleep in front of an AC too so…Keep that knowledge in mind before applying any of these lessons.
The key parts of my routine, to distill it down, are as follows:
Daytime:
Micellar water cleanse
Toner
Day cream
SPF
Primer
Any makeup
Optional face misting as needed
Night time:
Makeup remover
Cleanse
Tone
Mask
Tone
Night cream/sleeping mask
Optional face misting as needed.
And that's it. I do sometimes add a morning mask, or serums, oils, etc, but those are special, and are not a part of the usual, every single day skin care routine.
Every single day, please make sure you clean your skin, and moisturize after.
I don't care if "I put cheap body lotion on my face and never even remove my makeup" has left you with skin that "is perfectly fine" you are damaging your skin…also not washing is straight up nasty. You can get terrible infections. I work with someone who always had perfect skin and never did anything to it, and they got the nastiest kind of adult acne that destroyed their face, tanked their acting career, and has left them scarred for life and they hate how they look.
Wash. Your. Face. Moisturize after. If you need some tips or ideas for cheap skin care, please check out my past blogs, and if there isn't enough information there, hit me up in the comments or my DM's, I love skin care, let's talk about it!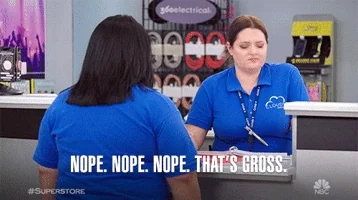 I hope this inspires you to always do your skin routine, every day, twice a day, and that maybe it had some helpful information for you.
Thanks for reading!
❤️
Abbi